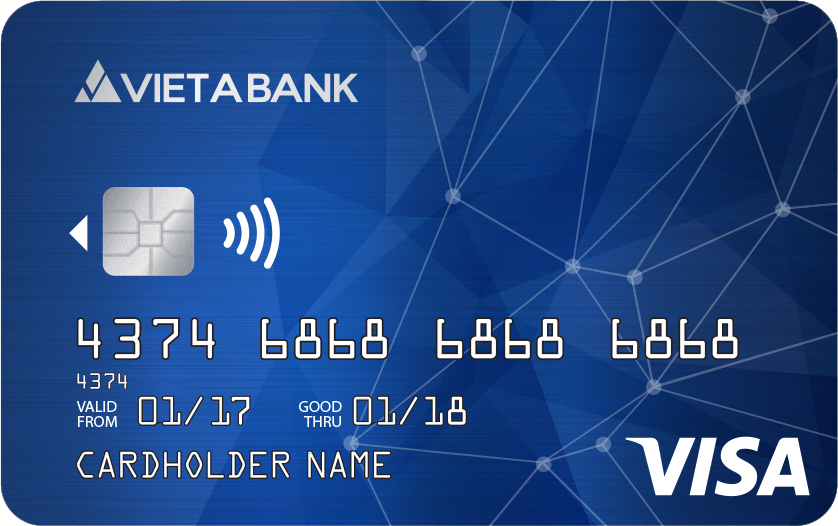 Classic cards
Classic cards
Benefits
VietABank Visa international credit card includes 2 classes (Classic and Platinum), issued by VietABank to pay for goods and services or withdraw cash with the feature "Buy now, pay later":
Use the money advanced from the Bank to pay for goods and services at POSs accepting Visa international cards.
Order goods and services on websites/e-commerce sites that accept Visa cards;
Withdraw cash at ATMs or at banks;
Pay utilities bills, telephone, cable TV, Internet bills, etc.;
Highly convenient and safe for customers or family members traveling overseas frequently for business, travel or study because they can spend without having to carry excessive cash;
Easily pay and control your child's living expenses while studying abroad (by using a secondary card);
Buy now - pay later with up to 50-day interest-free.
Receive information on credit limit changes via SMS.
Benefit from many promotions and discount programs offered by VietABank and Merchants from time to time.
CONDITIONS AND PROCEDURES
Primary card: Individuals 18 years of age or older.
Secondary card: Individuals 15 years of age or older.
Application documents
Identity documents of Primary Cardholder and Secondary Cardholder (if any)
Permanent or temporary residence book (if any)
Proof of financial capacity
Application form and Card contract
Application form and Current account/Domestic
HOW TO APPLY
Please visit the nearest VietABank transaction point
Or call our 24/7 Contact Center at 1900 555590 for service.
Transaction limit
Content
Classic cards
Platinum cards
Maximum spending limit per transaction (VND)

100,000,000

 

Not exceeding the Card's available limit at the time of spending

50,000,000

 

Not exceeding the Card's available limit at the time of spending
Maximum spending limit per day (VND)

Equal to the granted credit limit

Not exceeding the Card's available limit at the time of spending

Equal to the granted credit limit

Not exceeding the Card's available limit at the time of spending
Number of spending times per day

10

10
Online payment limit per day (VND)

VND50,000,000

VND50,000,000